TJX claims to "deliver great value to [its] customers through the combination of brand, fashion, price, and quality." It forgot ethics.
The global retailer sells angora in its U.S. and Canadian stores—including T.J.Maxx, HomeGoods, Marshalls, Sierra Trading Post, Winners, and HomeSense—even though it knows that every three months, angora rabbits are dragged out of tiny, filthy cages and their fur is violently ripped out as they scream in pain.
Rabbits whose fur is shorn off don't fare any better: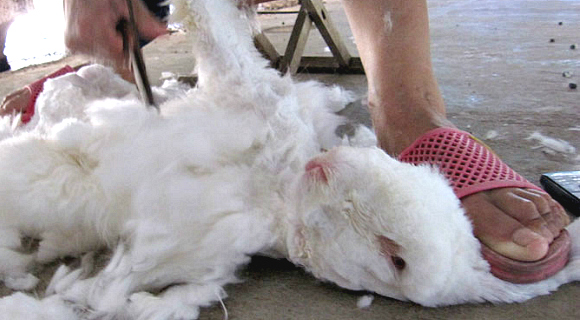 After a few years of this misery, their throats are often slit.
More than 200 major retailers have dropped angora because its production is so unethical. But TJX doesn't seem to care.
And it's not only angora rabbits who are suffering.
Marshalls, Winners, and HomeSense in Canada also sell items trimmed with the fur of animals who were killed for fashion and home décor in painful, gruesome ways. Fur-bearing animals such as minks, foxes, rabbits, and even dogs and cats often spend their entire lives confined to cramped wire cages, and fur farmers use the cheapest and cruelest killing methods available, including suffocation, electrocution, gassing, and poisoning. Animals trapped in the wild can suffer for days from blood loss, dehydration, and injuries sustained in attacks by predators.
Tell TJX to stop selling fur and angora today.