I had a bit of a shit month in August, caught COVID for the first time which put me on my arse and meant I couldn't get the Hell Bus open at Boomtown. Back at it now tho.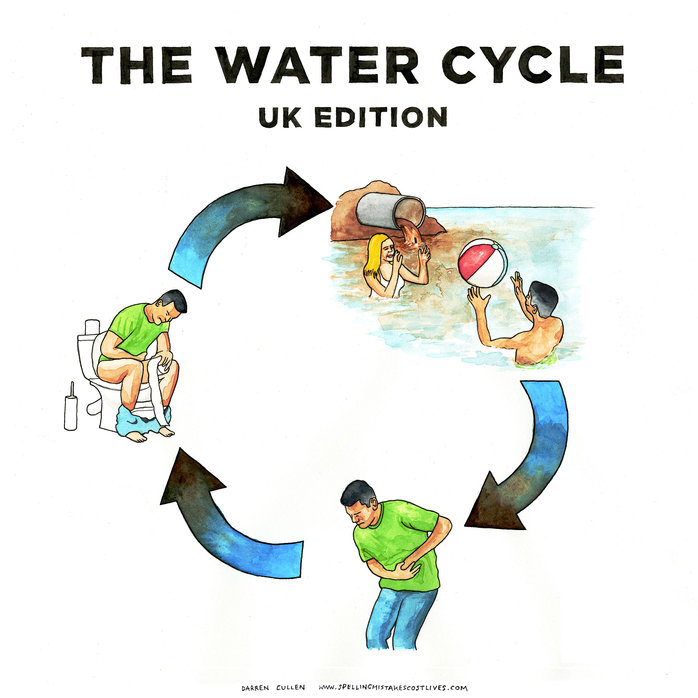 40 years of privatisation and deregulation presents…
If you're not familiar with the UK's water situation, our privatised water companies are dumping tons of raw sewage into our rivers and the surrounding seas. I'm starting to suspect its part of a Tory anti-immigration policy to construct a moat of turds surrounding the country in order to ward off asylum seekers.
The Hell Bus is coming to Liverpool next month as part of The World Transformed 24th-27th September.
The bus will be parked up in town for a couple of months so hoping to do another event or two while it's there. Will post more details when I have them.
The last time I was in Liverpool for The World Transformed, my work 'sparked uproar' over my Make Stuff Dead/Be The Meat mugs, Join the Army comic and Action Man: Battlefield Casualties flyers which various media outlets such as The Sun, Times, Daily Mail and Huffington Post reported on saying, among other things, that my work "mocked crippled British troops." (yikes) Many of the reports also incorrectly said my stall was at the Labour Party conference itself, until I complained and it was corrected.
Despite the fact my work was supported by and in some cases made in collaboration with Veterans for Peace UK, the temptation to smear left wing activists generally, and Corbyn in particular, was too much to resist for some conservative and centrist hacks.
The Huffington Post one in particular seemed oddly out of place at the time. But I couldn't help notice that a recent and quite bizarre Byline Times article attacking Corbyn over his comments on the invasion of Ukraine was written by Chris York, the same journalist who knowingly lied about my anti-war work in that Huffington Post article. I posted about it on Twitter here, which includes Byline's disappointing response.
PSTD ACTION MAN – FOUND AND RETURNED!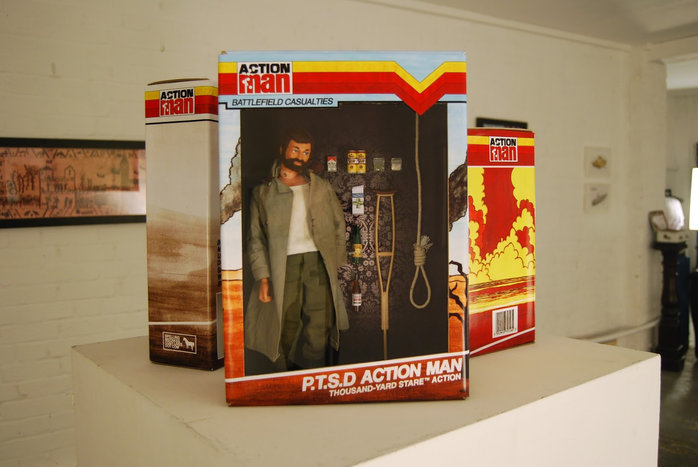 You may remember from my last mailing list that on the first proper day our group subvertising exhibition at Kunstraum Kreuzberg in Berlin my PTSD Action Man, a one-off boxed figurine I made in 2013, was stolen from the show.⁠
Unbelievably, yesterday, one of my fellow co-curators found it while getting a tattoo in a squat in Berlin and heroically, victoriously brought it back. I'm absolutely over the moon. It's ridiculous. Massive thanks to @doublewhy_y for finding and grabbing it! I'm very happy, the theft had been the one thing that had soured what has been an incredible show, and now it's fixed!⁠
The Action Man: Battlefield Casualties toys got their own ads back in 2015 when I worked with Veterans for Peace UK and director Price James and a whole team of other incredible people, not least the legend Matt Berry who provided the voiceover, to make three Action Man: Battlefield Casualties satirical "adverts". The film currently has over 10 million views on Youtube:
Veterans for Peace UK recently announced they were closing down after 10 years. They've done some great work & I was proud to have worked with them, not least on the above film.
While it's the formal end of VFP UK, I know many involved will continue campaigning for peace & against militarism.
My 'Everyone is Dead' poster started appearing in bus stops over the last month or so as part of actions by Extinction Rebellion which involved protesters breaking, spray painting and flypostering the windows at News UK headquarters (Rupert Murdoch's media company & owner of The Sun/The Times etc)⁠. More recently the posters have also been appearing across the country with local XR groups getting involved.
One of the posters was photographed here by Andy Rain and appeared in The Guardian, Washington Post, and Wall Street Journal (each with an increasingly weird take).
The other poster they put up was a variation of my 'Don't Believe Everything Billionaires Tell You' image that I made for the 2019 election. This version of the poster initially went up alongside the XR action which blocked three printing presses owned by Murdoch in 2020, delaying the distribution of several national newspapers and leading to several politicians losing their entire minds. Probably my favourite XR action to date.⁠
SHOP STUFF
Your periodic reminder that I have a shop full of lovely stuff for you, your friends and enemies, the sales of which are one of the few things keeping the wheels and the lights on all this. Get it before inflation means I can only accept payment via wheelbarrow.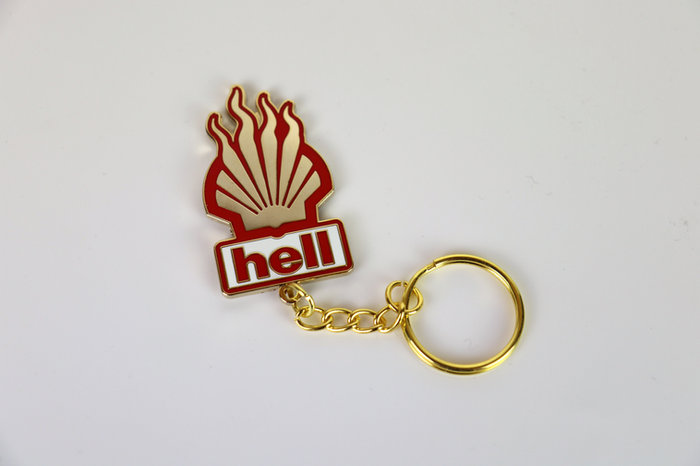 The Museum of Neoliberalism I co-curated with Gavin Grindon is back open regular hours in south east London after being closed most of the last month with me having COVID and attempting to bring the Hell Bus to Boomtown (more about that next time).
You can book a free timeslot for your visit here. Please book in advance so I can make sure we're open when you visit.
The museum is also going to have extended open times during September as part of Open House London.
If you're travelling here across London (or beyond) while you're here make sure to also go to the Migration Museum in Lewisham Shopping Centre, which is also free and about 20 min walk or 5 min bus ride away.
This update is public and shareable so please feel free to pass it on. If you're not on my mailing list but would like to be you can sign up here.
Eternal thanks to anyone who's ever backed my work on Patreon or through the shop!
And thanks for reading!