XMAS CARDS
No christmas update from me would be complete without dragging this old thing out of the vault. It was the first billboard I ever designed and the first and last time I ever asked for permission. My first attempt at installing it was cancelled when The Sun found out and called the billboard company, but they ran a story about the work anyway (see right). Good job they stopped me getting my evil message out there by printing it full colour in the newspaper.
I have xmas cards of this image as part of a collection of Santa-related greetings cards. They're available individually or as a pack of 12 cards.
I had these genuine (and genuinely insane) Blair xmas cards printed up as a backer reward for the Museum of Neoliberalism crowdfunder back in 2019 and they ended up being the most chosen backer reward, covering over half of the total we needed. There's something very satisifying about funding a museum of neoliberalism by pirating Tony Blair's intellectual property.
After we reached the funding goal (about £2k) I added an, admittedly sarcastic, stretch goal that if we raised an extra £250,000 we could afford to get Tony to do a speech at the opening. So I sent an email to the Tony Blair Institue for Global Change to enquire about his availability. Unfortunately he wasnt free that evening, but his assistant did send me a lovely boilerplate response which included the line "I hope the opening is a great success" which immediately went on the poster.
Anyway if for some reason you'd like to send some of these cards to your friends or enemies, they're available in my shop.

JIGSAW JIGSAW
The Jigsaw Jigsaws I made last year are still in my shop and still frustrating and annoying and possibly maybe even delighting someone out there. You can order one here.
FINE ART PRINTS
I have a selection of limited edition, signed prints of my work available. They're usually £30 for A4, £50 for A3, or £80 for A2, with some prints available in A5 or A1 size. I'm going to have to increase my prices slightly in the new year so now is a good time to grab.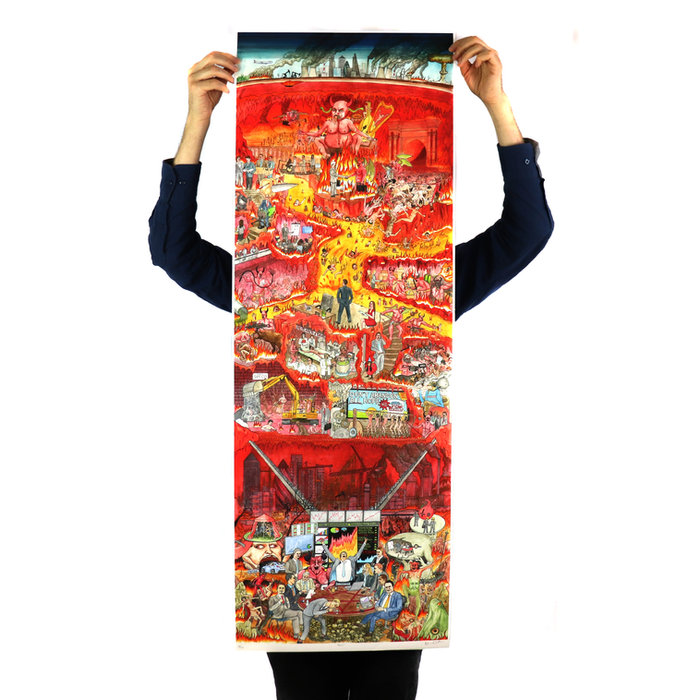 I also have this quite large Hell™ print, (edition of 120) that shows business people being sent to hell where they industrialise the torture process and start running the place for profit.
POSTERS
If the limited edition prices are a bit steep, I have unlimited run posters and riso prints at more readily affordable prices. The above poster is £10 and the Never Work riso prints are £5 each. I also still have some Pocket Money Loans posters from that project if you're feeling nostalgic.
There's something very pleasing about these things. The Sega/ACAB badge is an ongoing fundraiser for police accountability/protest groups (100% of profits are donated)
Order here
.
Commemorate another year the Queen dodged death with one of these
God Will Not Save the Queen coins
. £9.99 each or get two for £16.49 (the last year a monarch was beheaded in England)
I also have a bunch of
Non-Hell related clothing
(although some may disagree with that description). Including these Tory is a Feeling shirts, and Don't Believe Everything Billionaires Tell You in white and black versions. Eat the Rich in t-shirt and jumper too.
I got a restock of the Not Piss pint-sized mugs. Also, not a Sports Direct mug, which is good. My first proper job back in 1999 was working at Sports Direct and you'll be unsurprised to know it's always been awful.
Also have the old faithful Mr Demotivator mugs, perfect for that morning coffee so you can get pumped for getting back into bed.
DIY SUBVERTISING
I made this Ad Nausea sticker kit, based on a project I did previously, as an easy way for people to get into subvertising while on their commute. Simply add a thought bubble to public advertising to instantly change and confuse the ads meaning.
Each pack comes with 2 sticker sheets.
Or just make your own! But tbh that goes for everything in this email.
Ok I think that's enough of all that! 
If you've ever bought anything from my shop or intend to, thank you. It's literally what keeps my studio rent paid. I'm only able to make the stuff I make due to your support.