BOWIESONGS1

I have been working for the past year on producing an unusual album of David Bowie songs performed unplugged, for voice and piano only. I have some superb singers joining me on this project, each of whom is interpreting a different song. Some of the singers are already well known as successful recording artists, others less so, but all are passionate lovers of David Bowie's music.
The shock of Bowie's death in January came at a time when some of these recordings had already been done. Those we are doing now have taken on a more poignant angle. It was always a respectful and affectionate labour of love. We had set ourselves the challenge of reframing the songs with no other instruments or effects, just a grand piano and voice, to get to the emotional heart of these masterpieces of songwriting, by stripping them bare. Since 10 January it has become also a homage to a lost hero.
At the moment we have no funding or record company involvement and so have launched a crowdfunding campaign at Indiegogo to allow us to complete and release this very special album. Any help you can give would be hugely appreciated. There are a range of options for supporting the project, all of which have good 'prizes' in return. You could also share this campaign through your own social media, which would be a great help too.



Clifford Slapper
Singers: David McAlmont, Billie Ray Martin, Katherine Ellis,

Funmilayo, Danie Cox, Ray Burmiston
Des de Moor, Marcella Puppini
(We are also speaking with some very exciting possible additions to this list)
BOWIESONGS1
This is an album of some of David Bowie's masterpiece songs performed completely unplugged – purely voice and piano. 
All of these great singers have got to the emotional heart of each song, in the most moving way. We have been working on this for over a year. Several of the songs were already recorded before we were hit by the shocking news of David Bowie's passing in January of this year. It was always a labour of love from a life-long fan and fellow enthusiasts, but it is now also an homage to a lost hero. Unlike other albums of Bowie songs this is pure, unplugged, acoustic – and very powerful.
We are working hard to bring these exciting recordings out, and you can help to make this happen through your support which will help fund studio time, session fees, mixing, mastering, and marketing required to bring this special album to you. If we do not reach our target, the album will be released, but with less songs and less enhancements than we would like. In addition to singers and songs listed here we have others lined up to supplement this list.       
Clifford Slapper is a pianist and producer, who has worked with David Bowie (see pic above), Boy George, Marc Almond, Holly Johnson, Jarvis Cocker, Lisa Stansfield, Stereo MCs, Alabama 3, Suggs, Angie Brown, Gary Kemp and many others. Always inspired throughout his career by the work of David Bowie, Slapper worked closely with Bowie as pianist on his last ever television appearance, in 2006. Over the past year he has been working on producing an album of acoustic covers of Bowie songs arranged by him purely for voice and piano. These unplugged interpretations get to the heart of Bowie's masterpiece songs through stripping them down and laying bare the emotion in them, like modern torch songs. On the album he accompanies on piano about ten varied but stunning singers, each reinterpreting a different Bowie song.
Amongst the vocalists are DAVID MCALMONT (of McAlmont & Butler) singing "Sweet Thing", BILLIE RAY MARTIN (Electribe 101, "You Loving Arms", The Opiates) singing "After All" and MARCELLA PUPPINI (The Puppini Sisters, Marcella & The Forget Me Nots) singing "Stay". Recording has been at Trinity Studio, Greenwich and we have lined up mastering by Pete Maher (U2, The Killers, Jack White, Noel Gallagher, The Rolling Stones, Lana Del Rey). Some of the songs are already recorded and being mixed, with more on the way. We want to release one of the songs in April and a whole album in June.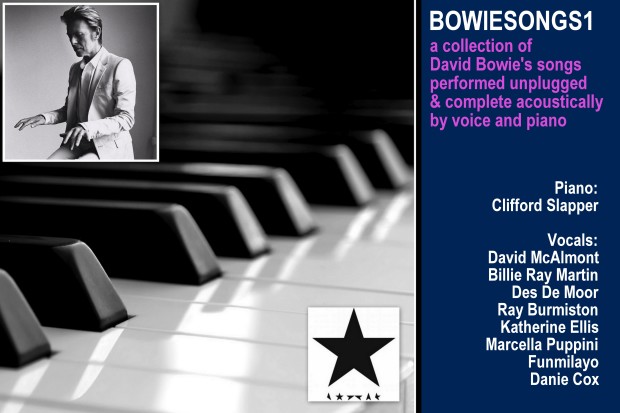 .
All piano on the album is played by Clifford Slapper. This is what has been said about his playing:
"I really loved your piano. Reminded me of Nicky Hopkins and Leon Russell."
Tony Visconti, one of the world's greatest producers and David Bowie's friend and producer/performer on numerous Bowie albums, 1969-2016.
"Very nice work on that Marc Almond track…you were the standout, for sure."
Mark Plati, producer/performer/mixer with David Bowie, 1996-2003.
"In particular, keyboardist Cliff Slapper provides decorative flourishes,always tasteful and atmospheric…"
MOJO magazine