STUFF UPDATE
Here's what I've been up to lately
DIGITAL ADVERTISING SCREEN STICKERS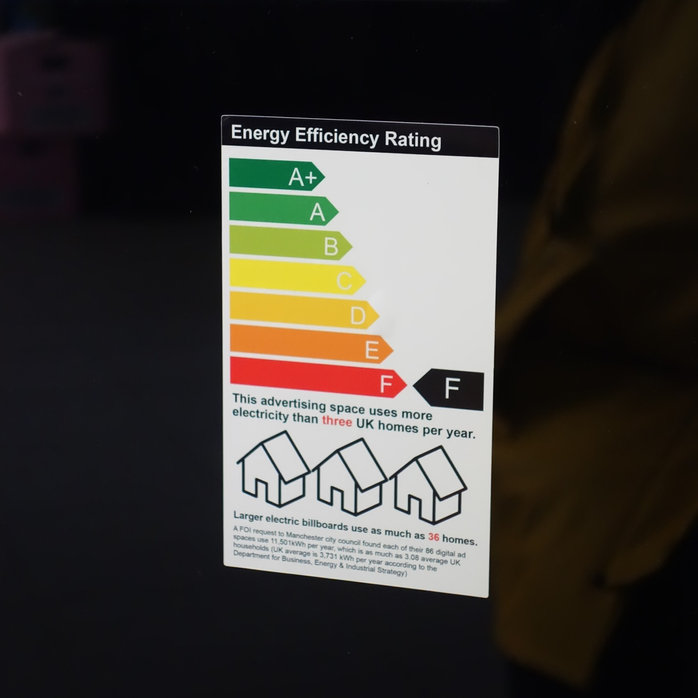 I made these stickers about the appalling energy inefficiency of street-based digital advertising screens. And now people have started taking them into the street and sticking them on the screens themselves. Now while I can't advocate breaking the law, TYPE SOMETHING HERE.
I've seen some pushback on the stats on this because people find it hard to believe the screens can really be this wasteful, but it's true, and has been proved with a FOI request from Manchester City council.
You can get the stickers at the low price of just 4 stickers for £1 from my website shop.
I first learned about how awful digital advertising screens are at the Ad Free Cities conference in Bristol
in 2019 and last weekend I attended this years conference in London (there's me on the right),
talking on a panel about subvertising, and it was fantastic. So great to see so many people come out to
learn about and share the many different ways to resist advertising in their communities.
CHRIST IN A VAN
This poster I did a while back to make people feel like they were having a fever dream on the tube has started appearing about the place again.
After a few people asked, I decided to make a limited edition print of it. It's a small one at A5 size for £17 and is available here until the edition runs out.
I'm currently working on a large Subbuteo-based diorama about the Palestinian national football team which is going to be on display in Berlin next month as part of a large subvertising exhibition I'm helping co-curate alongside some great artists and old friends.
The exhibition is called Werbepause – The Art of Subvertising and will be open at Kunstraum Kreuzberg from the 18th June – 21 August.
After the show I'm planning to bring the diorama back to London to show at the Museum of Neoliberalism.
I've been posting updates of the making-of this diorama on my Instagram story if you're interested!
GRAZ, AUSTRIA EXHIBITION
I also have some work in the 'Child Safety Fair/Kindersicherheitsmesse' exhibition at Forum Stadtpark in Graz, Austria from the 11th of June – 7th July. More details here.
LAST CHANCE TO SEE HELL BUS IN LONDON
The Hell Bus is entering its last few weekends on display in London at the Museum of Neoliberalism.
It's open for the next three weekends before it heads off to Glastonbury where it will be on display at Shangri-La. Then after that I need to find somewhere outside London's Low Emissions Zone to store/display it (if anyone out there has any suggestions/offers let me know!)
The Museum of Neoliberalism and the Hell Bus is free to visit you just need to book a timeslot in advance at museumofneoliberalism.com
GIVEAWAY
I found a few old copies of the first edition of my Mini Daily Mail which I gave away for free on the streets of Liverpool back in 2018. It has a few less pages than the final version but still a good read!
I'll be giving these copies away to 20 randomly selected subscribers of this mailing list by the end of next week. If you got this as an email then you'll already eligible, so keep an eye out!
This update is public and shareable so please feel free to pass it on. If you're not on my mailing list but would like to be you can sign up here.
Eternal thanks to anyone who's ever backed my work on Patreon or through the shop!