Now a Country Named for Him
When Twitter Fingers takes the oath of office, we will have official confirmation that we are now living in the United States of Trumpistan. So add it to the list.
Whoever coined the term "Trumpistan" deserves attribution in the O.E.D. The earliest reference I can find is from eight years ago — Jan. 10, 2009, to be exact — in an anonymous comment on a blogpost at Undernews, the online report of The Progressive, about high rents in NYC and the prototype of a "homeless chateau" designed for poor artists living in warehouses.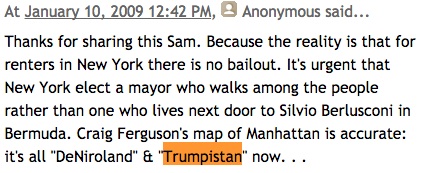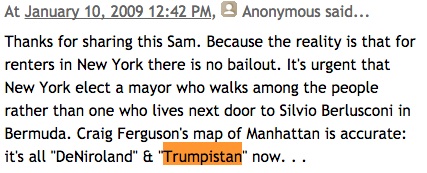 These days "Trumpistan" refers of course to something much worse than NYC's pricey real estate market — a country once called the United States of America.
———————
Meryl Streep's Truth to Power
Her remarks ran for four minutes, 55 seconds. At two minutes in, she said this:
There was one performance this year that stunned me. It sank its hooks in my heart. Not because it was good. There was nothing good about it. But it was effective and it did its job. It made its intended audience laugh and show their teeth. It was that moment when the person asking to sit in the most respected seat in our country imitated a disabled reporter. Someone he outranked in privilege, power and the capacity to fight back. It kind of broke my heart when I saw it. I still can't get it out of my head because it wasn't in a movie. It was real life. And this instinct to humiliate, when it's modeled by someone in the public platform, by someone powerful, it filters down into everybody's life . . .