OCCUPATION

Football is incredibly popular in Palestine but the occupation makes it difficult to flourish. The Palestine national team faces restrictions on travel and dozens of its most promising players have been frequently imprisoned, injured, permanently disabled, and killed after attacks and raids by Israeli forces. In 2014 two young national team players Jawhar Nasser and Adam Halabiya were shot repeatedly in the feet and legs near an Israeli checkpoint in occupied Palestine.
Palestinian football stadiums and fields have been bombed by Israeli forces and sections of the separation wall were built down the middle of the pitch at Abu Dis campus of Al-Quds University.
This new project reimagines the struggle of Palestinian football through the table football game Subbuteo, with Palestinian players on crutches, wheelchairs and arrested in handcuffs attempting to play on against a rival team of IDF soldiers who oversee the enclosure and the building of Israeli settlements on the pitch.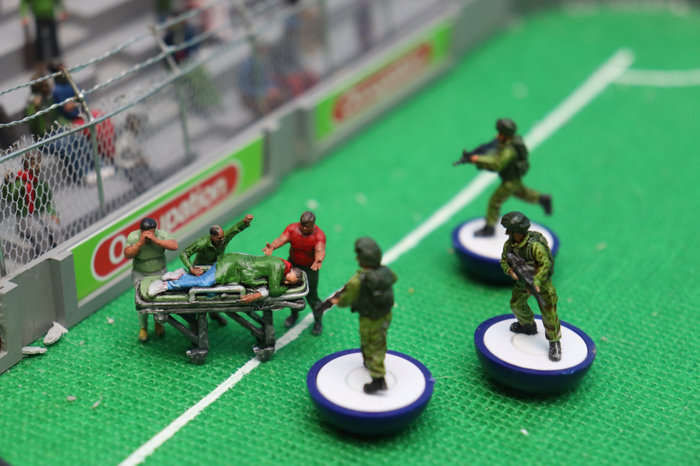 The diorama will be on display in Berlin from this Friday at an exhibition I'm co-curating called Werbepause – The Art of Subvertising at Kunstraum Kreuzberg/Bethanien. After the show ends in August I intend to bring it back to display in the UK at the Museum of Neoliberalism.
And I have to say that in spite of all they have faced and continue to face, congratulations to the Palestine football team for qualifying for the 2023 Asian Cup this week!
BERLIN EXHIBITION
Tomorrow night is the opening of an exhibition about subvertising I'm co-curating at Kunstraum Kreuzberg/Bethanien in Berlin.
The opening night is Friday 17th, 5pm-11pm. All welcome. There will be DJs and drinks.
I'll be exhibiting some new and old work in the show alongside a ton of incredible artists. The other curators and myself are hoping to show much of the history and techniques of anti-advertising artwork and the ongoing creative resistance to the commodification of both public space and the space inside your head.
The exhibition runs from 18th June-21st August 2022.
HELL BUS AT GLASTONBURY
Next week the Hell Bus will be on display at Glastonbury festival in the Shangri-La area. If you're at the festival make sure to come down and see it, it will be open from around midday to 1am each day.
NEW PRINT AT GLASTONBURY
Speaking of which, I've produced a new print for Shangrilart which will be on sale at Glastonbury, down in Shangri-La from 4pm on the Wednesday. Limited edition of 50.
It was a bit of a struggle finding time to paint this between everything that's been going on the last week or so, but I'm really happy with how it turned out. Well as happy as it's possible to be after looking at advertising imagery for hours.
This update is public and shareable so please feel free to pass it on. If you're not on my mailing list but would like to be you can sign up here.
Eternal thanks to anyone who's ever backed my work on Patreon or through the shop!
And thanks for reading!